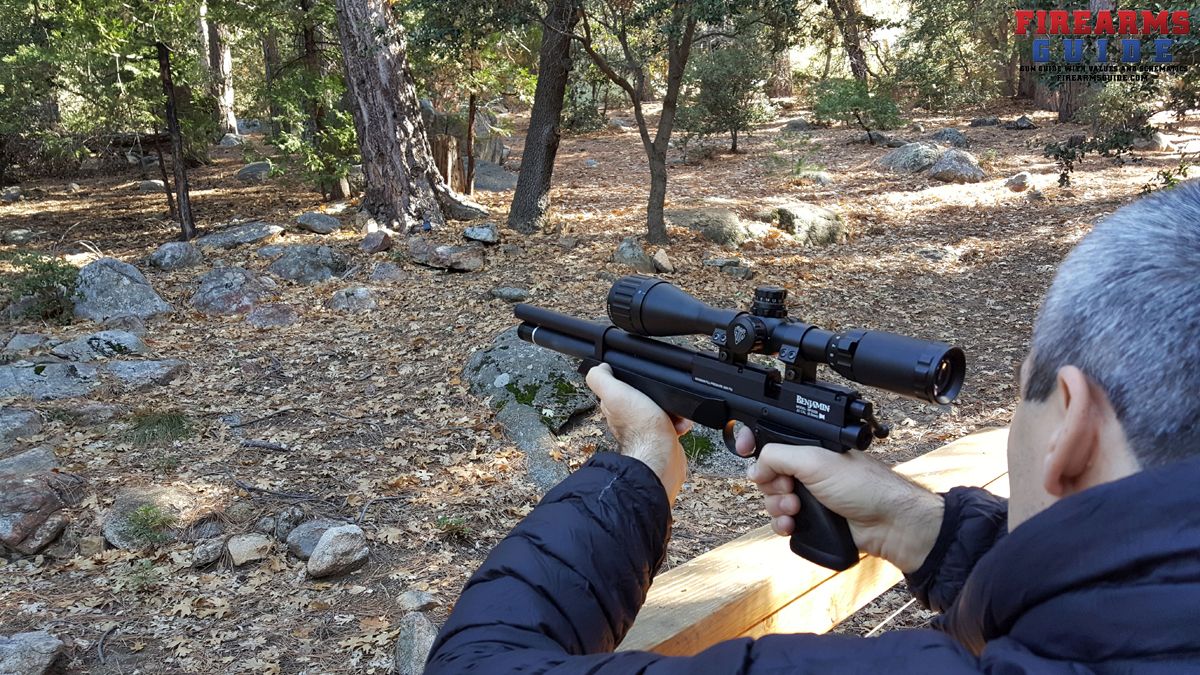 USA (FirearmsGuide.com) Posted by Firearms Guide Editor -A weekend spent in nature, far from your office and TV is a weekend well spent. A weekend spent in nature with a Benjamin Marauder pistol is an even better spent weekend, believe me. I just spend such a weekend on a mountain in the woods. I did a lot of shooting.
Some from the porch of our cabin, some in the woods, and it was always fun. First, the Marauder pistol is small and light so it's really not a problem to put it in your backpack when you going on a hike in the woods. If you fill it to 3000 psi you will have around 40 good shots and that should be enough if you planning to do some small game hunting. I don't think that you plan to kill 99 rabbits or 125 squirrels, so for hunting purposes 40 powerful shots with a well sighted pistol should be enough. If you prefer to use it as a carbine then pack a skeleton stock and small screw driver in your backpack just like I did and switch from pistol to carbine in 60 sec once you are in the field.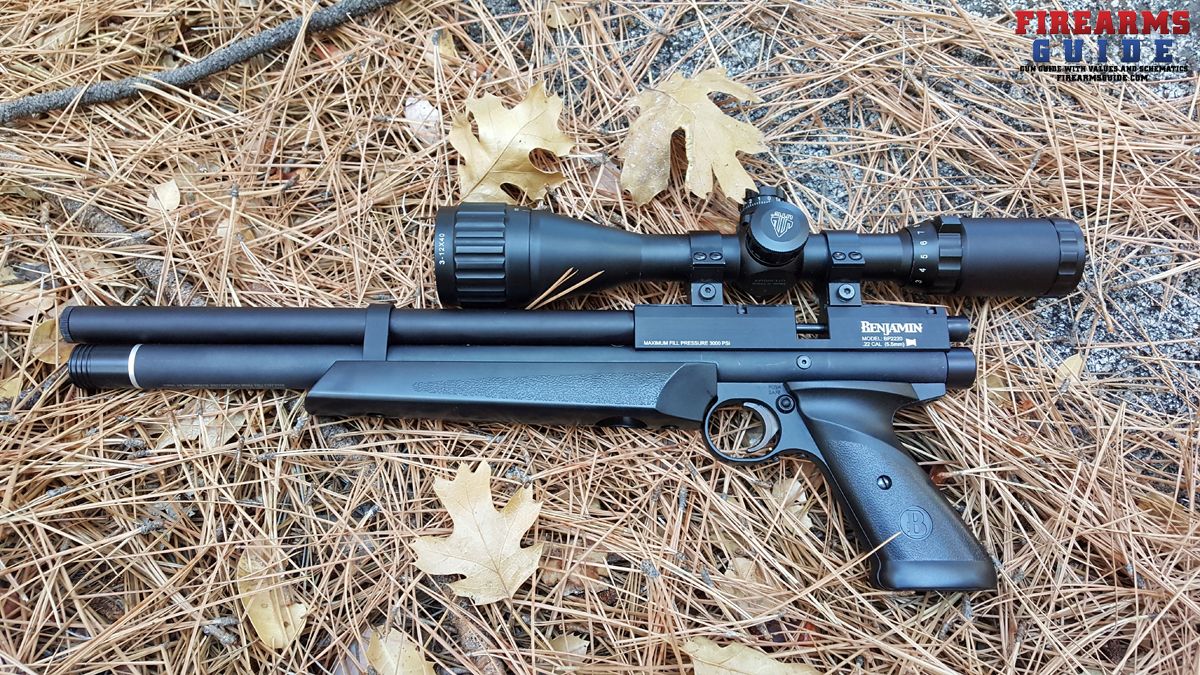 I was not planning to hunt that day but to shoot some pine cones, soda canes and paper targets, so I knew that I would shoot more than 40 shots. That's why I took with myself a hand pump. OK, I agree, it would be more convenient to have a small carbon fiber air tank for refilling, but I don't have one. I wish I had one because it would have be very convenient to pack one in my backpack as well.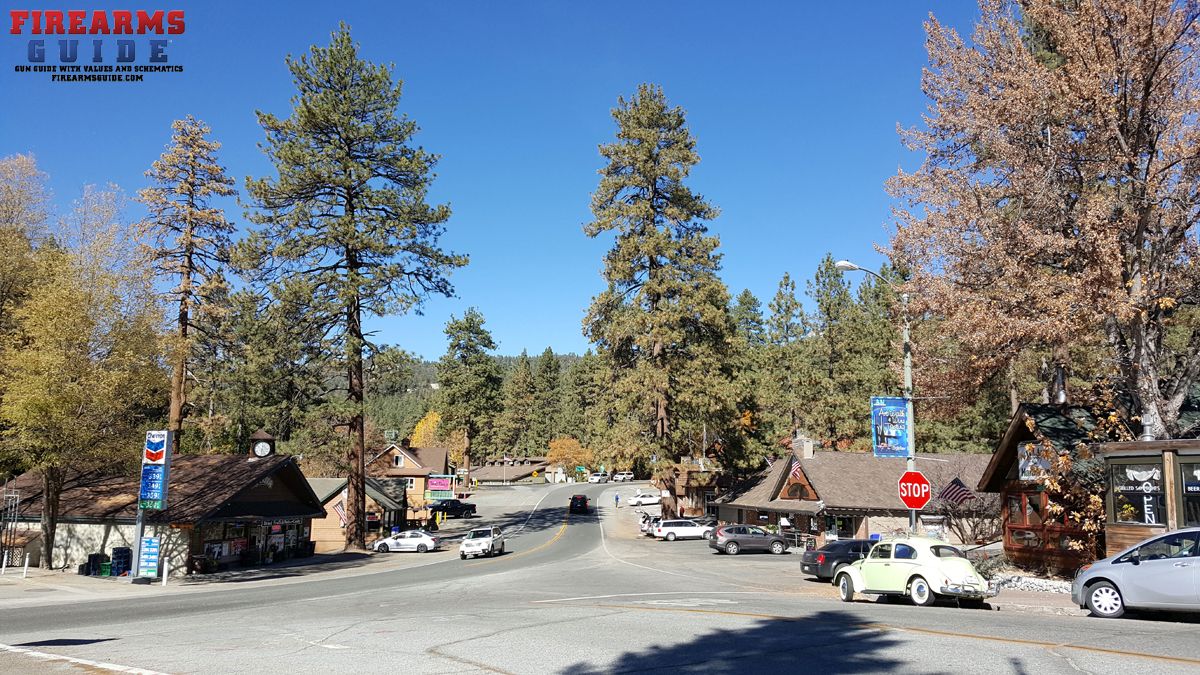 At a local gas station I asked the owner where I can shoot in the woods and he told me that the shooting range is closed because of high wildfire risk, but when I told him that I will be shooting an air gun and not firearms he told me that I can shoot air guns anywhere in the woods, just to go 100-200 yards away from town. I liked that freedom that air guns give me. It offers lots of fun, at a fragment of the cost and less liability.
So we went on our hike and after about an hour we stopped to have a rest. I liked the place and decided to shoot the Marauder as a pistol while the rest of the crew rested. While I was shooting nobody was complaining about a loud bang that guns usually make. The Marauder is so quiet that I enjoyed my shooting session while the rest of the crew enjoyed the quiet sounds of the mountain and bird songs. I can tell you, no pine cone felt safe that day and I punched many holes in them.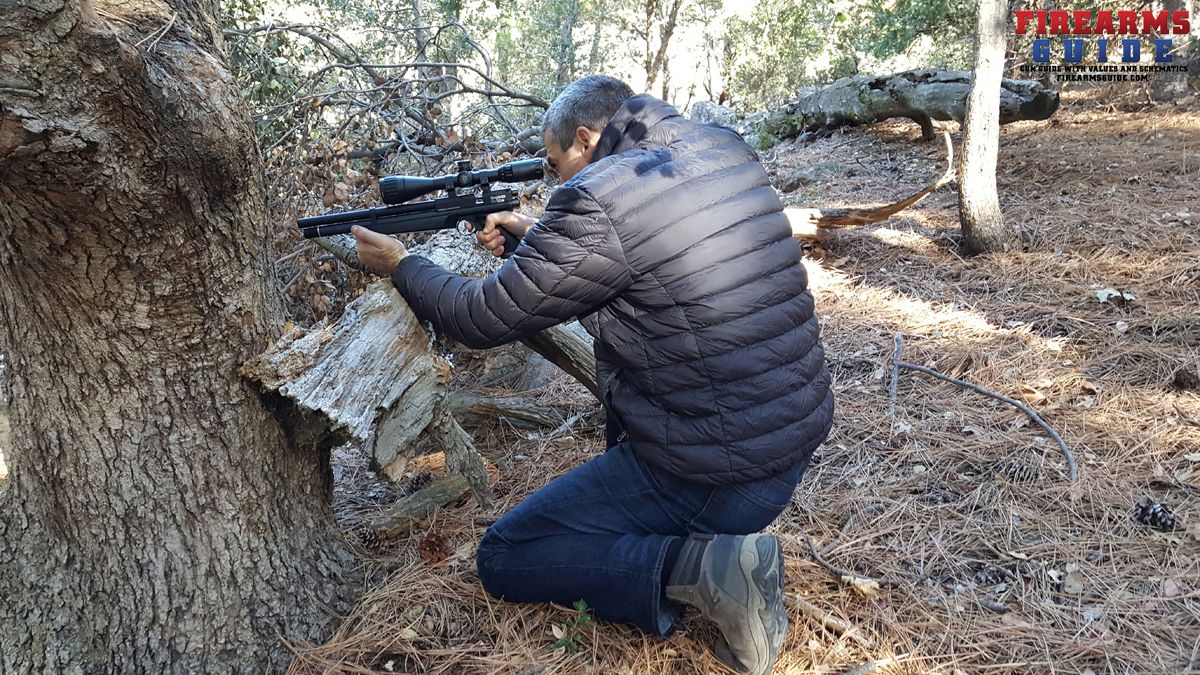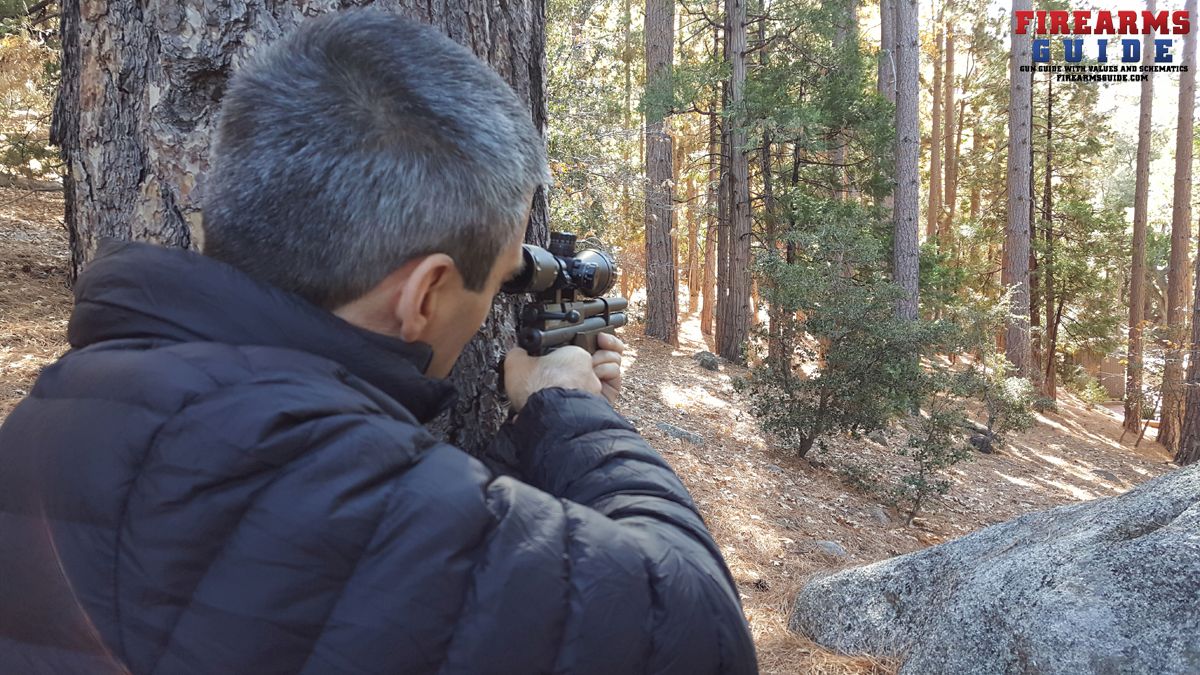 We continued our hike and after a while we reached a place that we wanted to stop. We stopped and I decided to fix the shoulder stock. I took the Marauder pistol and stock from my backpack. My Marauder pistol became a carbine in a minute. I took out a pump and filled the Marauder to 2500 psi in another 30-45 seconds. I found a big rock and place my pump on it. I didn't want to place the pump on the soft, dirty and dusty forest floor. The rock was not flat so pumping was also a balancing act …but in the wild only the fittest survive, right?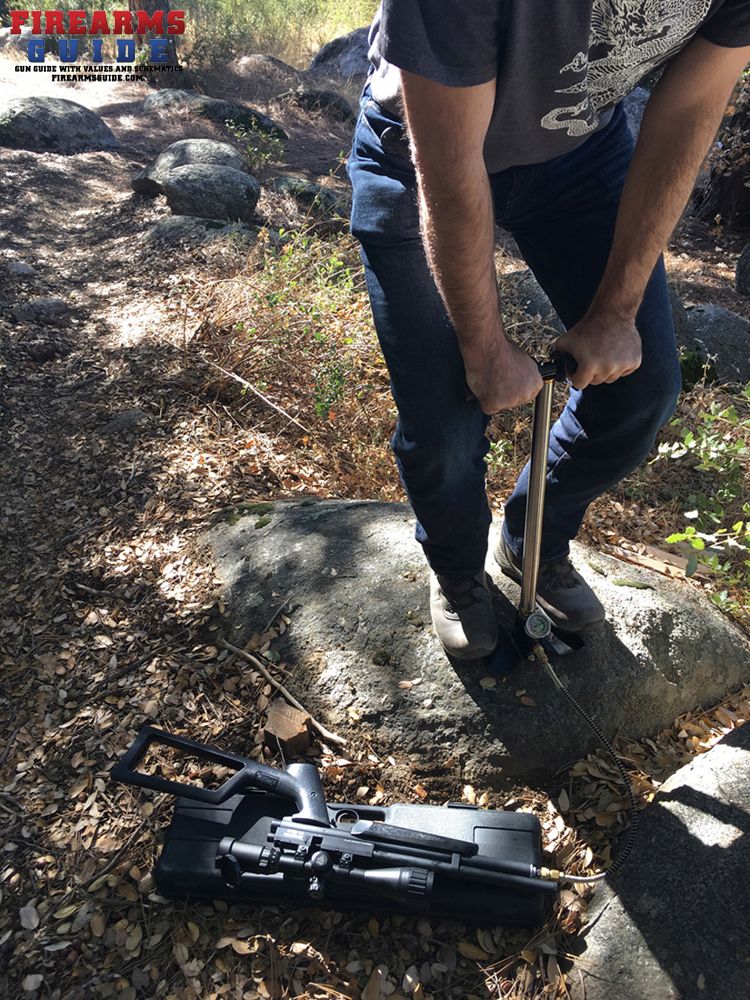 It was the perfect day and place to shoot the Marauder carbine. With a UTG 3-12x40 scope and fixed shoulder stock I had an excellent view of my Firearms Guide paper targets that I printed the day before which I had fixed 30 yards away. Shooting paper targets was a pleasure also because the Marauder is quiet, so wild life was not spooked by me. Birds were singing, squirrels and chipmunks were running around me while I was shooting. My crew was enjoying the sun, air and the forest next to me. I was shooting the Marauder while they were taking photos of nature.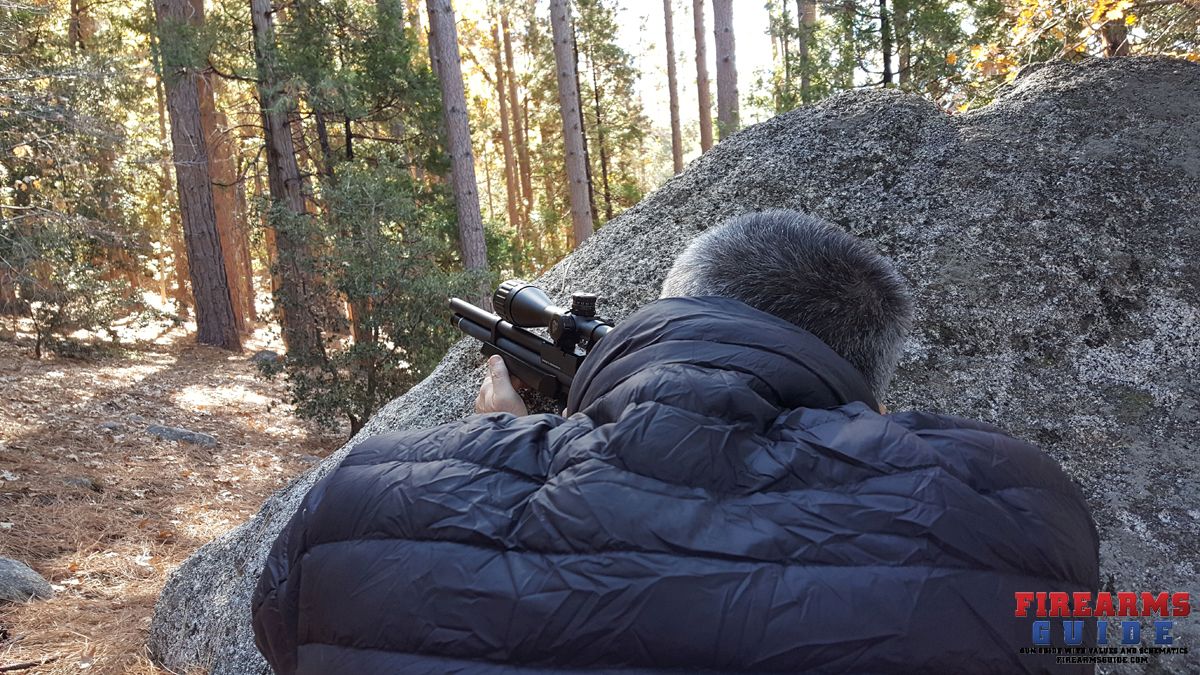 It took me a few shots to do some scope adjusting, but after 100% sighting in I started to get really tight groups, which is always a pleasure. Some of the printed targets that I shot were squirrel and pheasant paper targets so I can tell you 30 yard headshots are a rule and not an exception. Some of my crew also shot a magazine or two, so I was not the only one enjoying this great carbine. After an hour or so the crew wanted to go back so I cleaned the shooting site by packing all targets and devastated soda cans. I took the skeleton stock down and pack it in my backpack with the Marauder pistol. The hand pump went back in its plastic case and we had a nice hike back. A nice day in the woods was even nicer for me because of this little pistol with a big punch. Now I am back in my office in front of my PC looking at hiking pictures and I can't wait to go back. The Marauder is still in my backpack waiting….