Download FirearmsGuide.com 2018 ONLINE Rate Card HERE.
For Advertising Packages click HERE (if you don't see package ideal for you email us with your needs & specs)
When you are planing your online advertising campaigns, consider advertising with us. Firearms Guide is one of the few online publications today that successfully uses a paid subscription model. Firearms Guide users are paid subscribers with an above average income that pay a 1 year subscription (see HERE) to be able to use the full potential of Firearms Guides content and search ability. On top of that, our CPM banner prices are very competitively priced so your budget will go farther and reach more. Your advertising is equally visible to both our paid subscribers and non-paid visitors at all times.


We offer with very competitive prices:
Cover Page presentation - present your gun or air gun on the cover page of FirearmsGuide.com - BEST position!
Regular Banners - show your products on static or rotating banners - only 2 positions available
Keyword Activated Banners - your banner is shown ONLY when your selected keyword is searched (i.e. Glock or RIFLE) = zero adv. budget waste (pistol lasers makers should choose Handguns, rifle scopes makers should choose Rifles, etc)
Manufacturer Link Button - Only for guns or ammo manufacturers - connect every gun enthusiast that researches your guns or ammo on FirearmsGuide.com to your web site where they can buy your guns or ammo or find closest dealer.
Buy At Button - Only for gun dealers - We do not sell guns but you do so take our subscribers to your web site where they can buy guns and ammo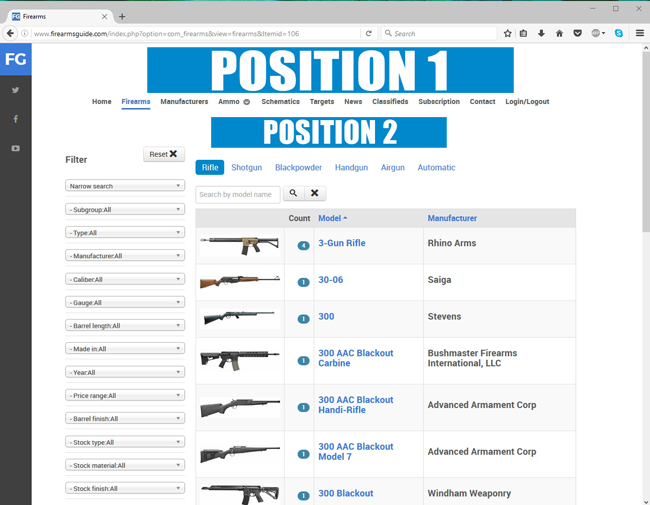 Banner Advertising:
Advertising with banners on FirearmsGuide.com and paying per 1,000 impressions (CPM) is the most transparent advertising model ever developed. Each advertiser pays only delivered impressions of his banners and absolutely nothing else. Big web sites with more visitors will spend your budget faster while smaller web sites will take more time to spend the same budget. In both cases you will get the same number of banner impressions that you paid for.
OUR ADVANTAGE - KEYWORD ACTIVATED BANNERS (Zero Waste Advertising):
Big web sites will run your banner with every article, on every page, to spend your budget as fast as possible. If you are a rifle scope maker they will run your banner on articles about the new Polaris ATW or 2nd Amendment rights or new Glock pistol - 90% of your banner impressions go to waste. Firearms Guide is not a text web site but online database and that is why we can provide Keyword Activated Banners. If you are a rifle scope maker you chose the keyword "RIFLE" and your banner will be shown ONLY to gun enthusiasts that research rifles. If you make sights for Glock choose "Glock" as your keyword. If you make stocks for Ruger 10/22 then choose the keyword "Ruger 10/22" and only gun enthusiasts that researching Ruger 10/22 will see your ad. YOUR AD WILL BE SHOWN ONLY TO YOUR POTENTIAL BUYERS = ZERO ADV.BUDGET WASTE!
Non-USA companies - LOCATION ACTIVATED ADVERTISING:
If you are a company/manufacturer/dealer/webshop from outside of the USA (U.K., Italy, Germany, Canada, Australia, etc) you can run location activated banner campaign that will be shown only to gun enthusiasts in your country so that you maximize your advertising budget. You won't spend any money on advertising outside of your territory.
If you have any questions after going through the 2018 Rate Card please contact Chris at:
Email: kmijic(@)impressummedia(.)com